Angkor - 1 days
Hotel packages
Tour starting from THB
Explore the main temples of Angkor with an official French guide
Day 1 - Angkor in one day
 Siem Reap 
---

---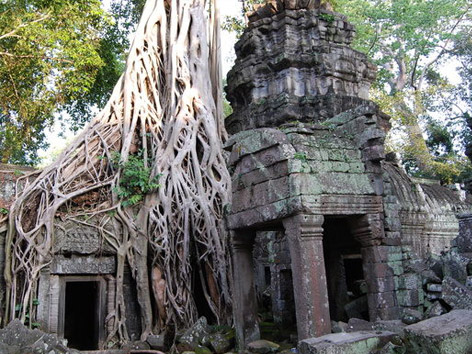 Ta Prohm
Ta Prohm temple; it is a temple where tree roots have invaded the roofs and walls of the temple. Ta Prohm is one of the most atmospheric temples of Angkor. The Hollywood blockbuster 'Tomb Raider' (with Angelina Jolie) has made the temple famous. Once you have covered the site, you will be surprised by the unique atmosphere created by these temples half covered with trees and vegetation.
---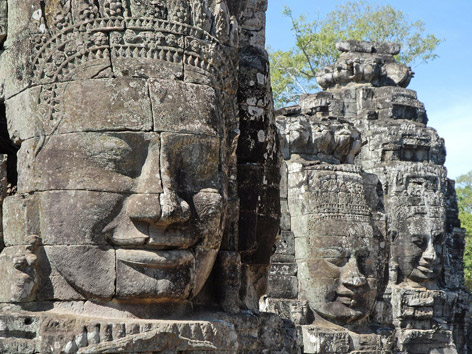 Bayon
Bayon temple which is located in the middle of the great ancient city of Angkor Thom, the last capital of the Khmer Empire during the reign of King Jayavarman VII. It is a city surrounded by an 8 meters high rampart with 3 km on each side, drawing a perfect square. Bayon, King Jayavarman VII's State Temple dated 1181, is one of the most mysterious temples in the Angkor region. You will admire its beautifully carved central towers that cover 200 huge stone Buddha faces facing the four cardinal points. Leaving the Bayon, you will visit the terrace of the Elephants.
---

---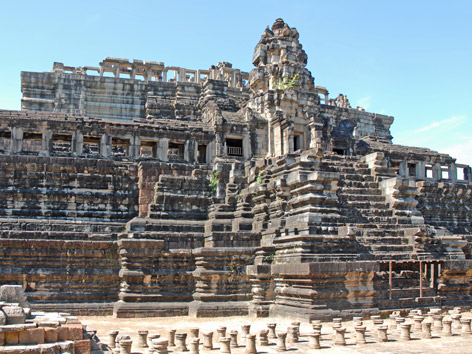 Baphuon
The Baphuon is a temple at Angkor, Cambodia. It is located in Angkor Thom, northwest of the Bayon. Built in the mid-11th century, it is a three-tiered temple mountain built as the state temple of Udayadityavarman II dedicated to the Hindu God Shiva. It is the archetype of the Baphuon style. The temple adjoins the southern enclosure of the royal palace and measures 120 metres east-west by 100 metres north-south at its base and stands 34 meters tall without its tower.
---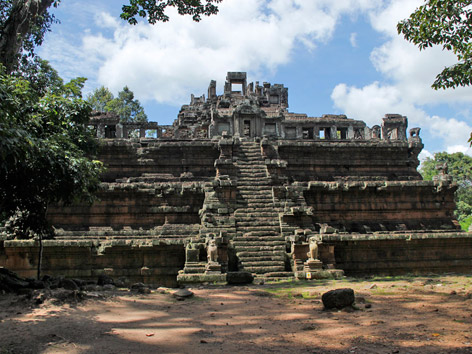 Phimeanakas
The temple was the focal point of Suryavarman I's capital. The buildings there from his reign are enclosed by a wall 600 by 250 m, with five gopuram, and include the Southern and Northern Khleangs.
The tower must originally have been crowned with a golden pinnacle, as Zhou Daguan described it in his report. According to legend, the king spent the first watch of every night with a woman thought to represent a Nāga in the tower, during that time, not even the queen was permitted to intrude. Only in the second watch the king returned to his palace with the queen. If the naga who was the supreme land owner of Khmer land did not show up for a night, the king's day would be numbered, if the king did not show up, calamity would strike his land.
---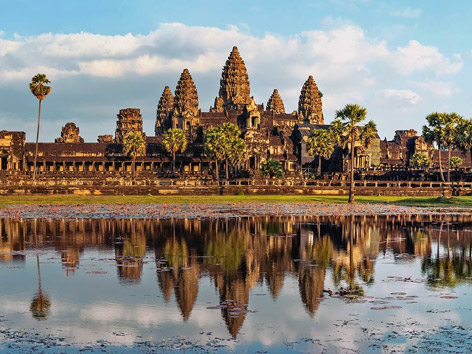 Angkor Wat
Angkor Wat is a temple complex in Cambodia and the largest religious monument in the world, with the site measuring 162.6 hectares (1,626,000 sq meters). It was originally constructed as a Hindu temple for the Khmer Empire, gradually transforming into a Buddhist temple toward the end of the 12th century. It was built by the Khmer King Suryavarman II in the early 12th century in Yaśodharapura (Khmer: យសោធរបុរៈ, present-day Angkor), the capital of the Khmer Empire, as his state temple and eventual mausoleum. Breaking from the Shaiva tradition of previous kings, Angkor Wat was instead dedicated to Vishnu. As the best-preserved temple at the site, it is the only one to have remained a significant religious center since its foundation. The temple is at the top of the high classical style of Khmer architecture. It has become a symbol of Cambodia, appearing on its national flag
---