Trekking around Chiang Mai - 6 days
Hotel packages
Tour starting from THB
This circuit is intended for the amateurs of ecology. You will do 3 days of private trekking and quite sweet in the forests around Chiang Mai, with accommodation in the tribes, small meals prepared by our local guides. Speaking English, they will be able to give you explanations on the fauna and the flora as well as on the different tribes which you will rub shoulders. You will have the opportunity to visit Chiang Mai during our scheduled day and go on an adventure on your own during a free day.

Total kilometers for the Tour: 220 km and about 4h20 minutes.

Day 1 - Chiang Mai
 Chiang Mai 
---
---
The Park - Superior room

Day 2 - Chiang Mai - Doï Suthep - handicraft
 Chiang Mai 
---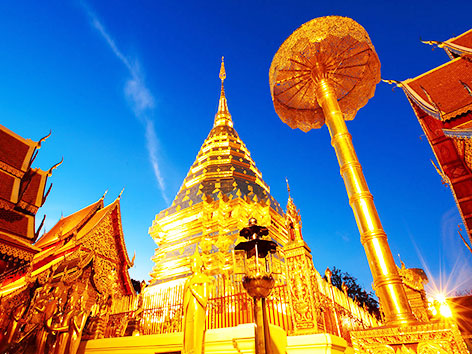 Doi Suthep
The Wat Phra That Doi Suthep is a Buddhist temple in Chiang Mai province, Thailand. It is often referred to as Doi Suthep although this is actually the name of the mountain on which it is located. Located 13 kilometers north of the city of Chiang Mai, it is a sacred site for the Thais. From the temple, you will have an impressive view of the city of Chiang Mai.
---

---
---
The Park - Superior room

Day 3 - Trekking
 Chiang Mai 
---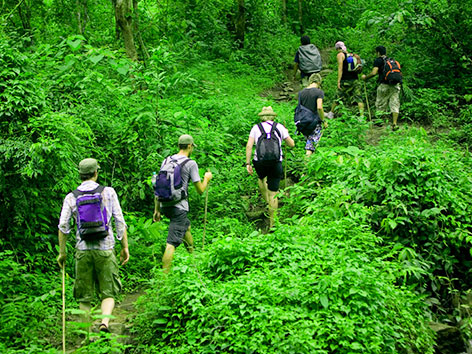 Trekking
The most beautiful trekking in the northern province of Thailand Chiang Mai are located in Mae Taeng and Mae Wang: waterfalls, elephants, plunging valleys and wild nature. This region is also known for its large populations of ethnic tribes such as the Karen, Akha, Lisu and Lahu.
---
Day 4 - Trekking
 Chiang Mai 
---
Day 5 - Trekking – Chiang Mai
 Chiang Mai 
---
---
The Park - Superior room

Day 6 - Chiang Mai
 Chiang Mai 
---