Culture & Hua Hin - 7 days
Hotel packages
Tour starting from THB
This Cultural tour and Beach invites you to discover the wonders of the "Land of Smiles". Besides the city of Bangkok and its surroundings, visit Ayutthaya, listed by UNESCO as a site part of world heritage. You will make a detour to the rich colorful floating market without forgetting the Famous River Kwai Bridge, and the 7 waterfalls in the Erawan Park.
Hua Hin very popular beach.

Total kilometers for the Tour: 1 106 and 14.10 minutes
Day 1 - Bangkok
 Bangkok 
---
---
Furama Silom - Superior room

Day 2 - Bangkok
 Bangkok 
---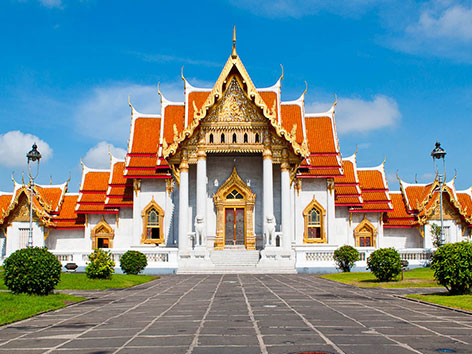 Visit of the temples of Bangkok
This activity will make you travel through the most famous temples of Bangkok. From the Wat Phra Kaew, Wat Pho to the Wat Arun, you will be amazed by the rich architectural culture of the capital of Thailand and all its wonders.
---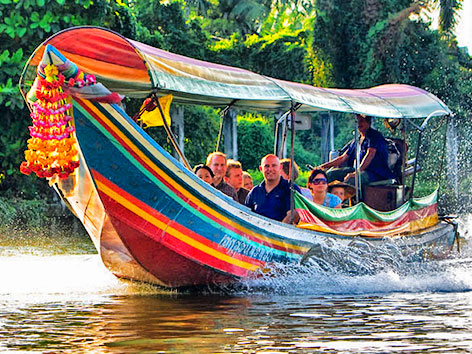 Exploring the klongs
Mahasawat is only about 50 kms from Bangkok in Nakhon Pathom Province, near to Mahidol University's Salaya Campus. The Province of Nakhon Pathom is criss-crossed by many canals (klongs) and irrigation ditches. Mahasawat is built along one of these canals which is the life source of the community, and for many, the only way of commuting.
---
---
Furama Silom - Superior room

Day 3 - Bangkok - Ayutthaya - Lopburi - Bangkok
 Bangkok  Ayutthaya  Bangkok 
---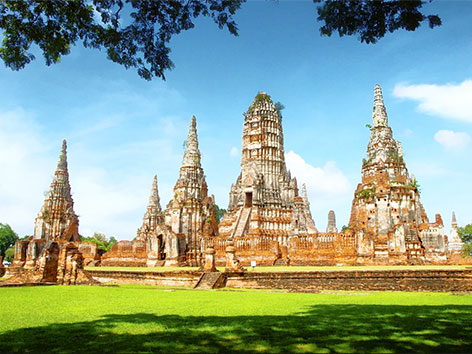 Ayutthaya
Founded 1350, Ayutthaya became the second Siamese capital after Sukhothai. It was destroyed by the Burmese in the eighteenth century. Its remains, characterized by the prang or reliquary towers and the gigantic monasteries, give an idea of its past splendor.
---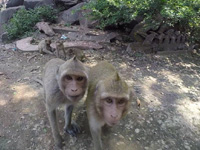 Lopburi
Lopburi was one of the centers of the Dvaravati culture. She then came under Khmer domination at the time of the kingdom of Lavo, and was the second capital of the Kingdom of Ayutthaya in Narai the Great (Ramathibodi III reign 1657-1688). He built a large palatial assembly, the King Narai's Palace, which is now a museum.
---
---
Furama Silom - Superior room

Day 4 - Bangkok - Nakhon Patom - Dammoen Saduak - Kanchanaburi
 Bangkok  Kanchanaburi 
---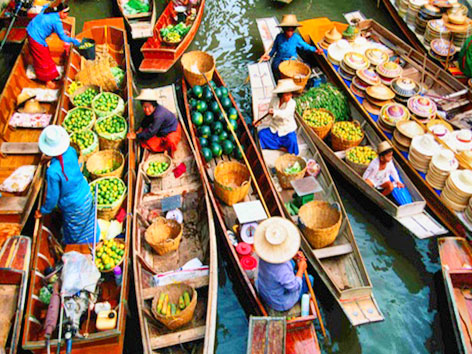 Damnoen Saduak Floating Market
The most famous of the floating markets of Bangkok is Damnoen Saduak, about 100 kilometers southwest of Bangkok. This buzzing market is at its best in the early morning before the crowds arrive and the heat of the day builds up.
---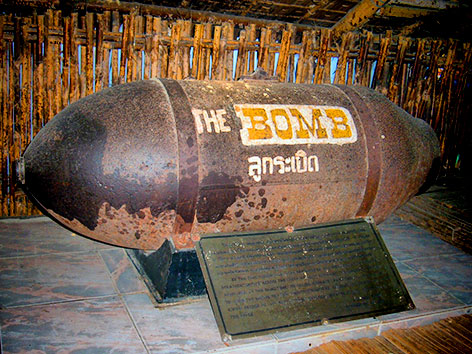 The JEATH War Museum
JEATH stands for Japan, England, America, Australia, Thailand and Holland, representing the nationalities of the prisoners of war (POW's) who were forced to work on the construction of the famous "Bridge On The River Kwai". The museum is on the bank of the River, inside Wat Chai Chumphon temple, and displays graphic images of the terrible conditions inflicted on the many young men that died and the many that survived to tell the story.
---
---
Felix River Kwai - Superior room garden

Day 5 - Erawan – Hua Hin
 Kanchanaburi  Hua Hin 
---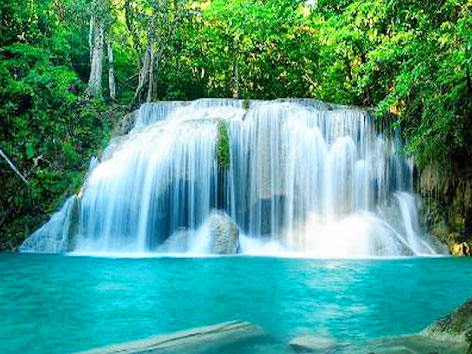 Erawan Waterfalls
Founded in 1975 as Thailands 12th National Park, it is covering an area of km². Located on West Thailand in the Tenasserim Hills of Kanchanaburi Province, it is one of the most famous national parks in Thailand. The major attraction of the park is Erawan Falls with emerald green ponds, named after the three-headed white elephant of Hindu mythology.
---
---
White Sand - Deluxe room

Day 6 - Hua Hin
 Hua Hin 
---
---
White Sand - Deluxe room

Day 7 - Hua Hin - Bangkok
 Hua Hin  Bangkok 
---