TRIP IN KOH TAN AND KOH MADSUM
As you know our office is on Koh Samui. We were looking for a new tour for our travelers, when they visit, to complete their tour enjoying the beautiful beaches or wish to enjoy and only in this island.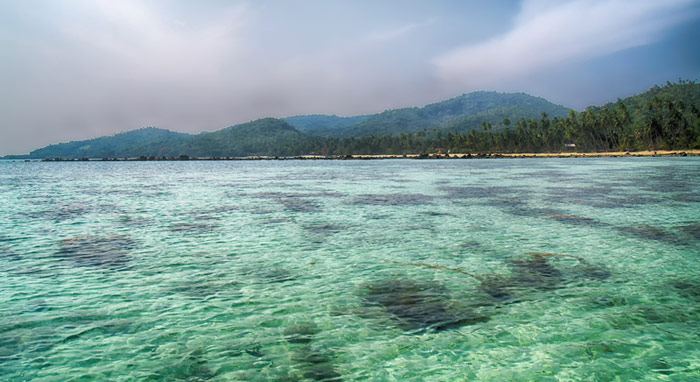 Our regular readers also know that we do not take lightly the various options that are manifested to us. Thus the famous "We tested for you" makes sense. One of the advantages of our business is this. The "boss" of DJ Paradise Tour does not mess with the quality of its services and he sent us in heavenly mission discovery of a new tour for our customers.
For connoisseurs of the island, Koh Samui and has developed rapidly, hotels, shops etc. Fortunately for fans of the beautiful unspoilt nature, we are on the west coast and enjoy this beautiful authentic part. Let us return to the tour ... Only a few minutes from Ban Kao Tropical Residence is a beautiful beach with some canoes that are ready to take you away from the tourists and sketches a somewhat imposed modernity.
Embarking on a traditional Thai boat (long tail boat) to Koh Tan
When the sky is clear that morning as we easily distinguishes our destination, we almost want to take the challenge of nature and reach Koh Taen swimming, just like in the movie "The Beach" if you remember. Not being on the side of the Andaman Sea or rather wise that day (family trip) We ship by canoe. Thai guide is great to listen to us, he rediscovered each time the place through its day guests. While the crystal clear water caress our feet, no word is spoken almost, looks sometimes intersect, enough to understand that we are all aware of this unique moment that nature offers us. Fresh water bottles at our disposal ... to add maybe some fruit to our customers, that happiness is complete. After a few minutes the island of Koh Taen is present in large before us. The boat stops for us to enjoy and get in touch with this beautiful water that drag us for a while. This is for snorkeling or small snorkeling if you prefer. Snorkel on the reef. Fish and join us at the bottom of sea cucumbers, shellfish, beautiful corals, even a full blue stripe that beautiful marine watercolors. You can obviously only enjoy swimming in the fabulous lagoon.
We enjoy a short hike in the interior of the island is that of happiness. No roads, tourists, discover the tropical flora and fauna in its purest form. After enjoying a nice little restaurant meal "At the end of the world", we do not want to fall asleep on the beach with fine sand and we take along thail boat to reach the "sister" a few meters away, the island of Koh Madsum.
Taking advantage of the relatively low level of water we did a ride in this lagoon still enjoying once small people, the place is just gorgeous, sand, scenery, flora. We want to stay there and light a small fire to grill the former. A change of scenery. No one thought to open his cell phone (or did not dare), I prefer to believe the first option and allowed just the good old reggae sounds fill all our senses. You can even spend a night in one of the two islands, in a small bungalow ... Sunset or sunrise are memorable.
Having enjoyed the nature and relaxing at the beach it's time return on our island of Koh Samui. The head filled with extraordinary images we enjoy sharing our emotions around a good Mojito at Ban Kao Tropical.
The simple moments are often the best.
Do not forget to ask this tour with our tour operator, it is worth it!