WAT CHAI WATTANARAM - AYUTTHAYA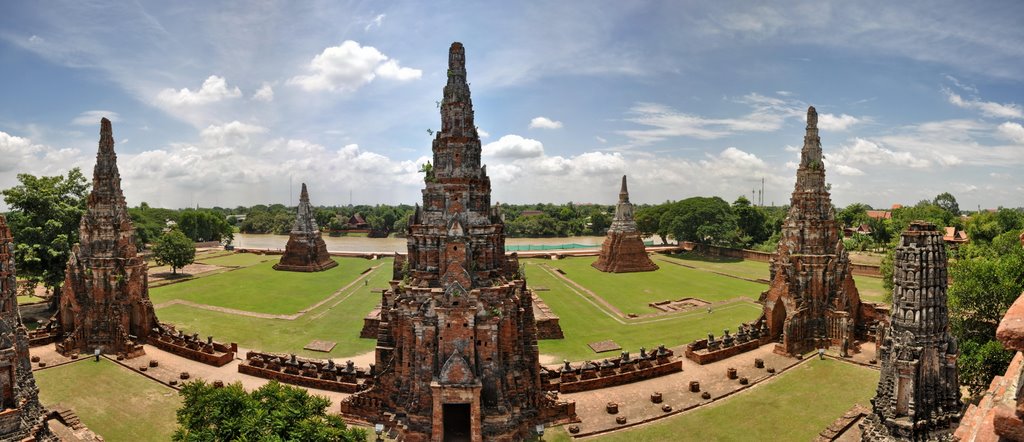 Standing on the river, Wat Chaiwatthanaram is one of the most famous Buddhist temples in the historic city of Ayutthaya, Thailand.
Built in 1630 by King Prasat Thong in the Ayutthaya period subsequent to commemorate the birthplace of his mother and celebrate his coronation. King Prasat Tong, was a man of the people who overthrew the previous king and the monastery may have been set up to assert its legitimacy to the throne or as an alternative theory to celebrate the Khmer victory. Besides this recall the temple of Angkor in Cambodia. The king and his descendants perform religious rites here. He was also a cremation site for members of the royal family.
The main Prang of 35m high is typical Khmer style and is surrounded by 8 chedis. One of them house the ashes of the mother of Prasat Thong to whom the temple was dedicated. The main prang symbolizes Mount Meru and the four small prang symbolize the four continents (according to the Buddhist cosmology).
Around the central structure with the main Prang in the eight directions, there are the great buildings of the tower which are connected by a gallery containing many Buddha sculptures (almost all beheaded). The sculptures are in royal attire, and some still have a crown. The ubosoth (coronation hall) is in front of Prang principal.Seule the basis of it is left in place.
During the war with Burma in 1767, Wat was used as a military camp. After the defeat, Wat Chai Wattanaram was the victim of looting. Brick sale have become a common practice. Composed of conservation was finally launched in 1987 by the Department of Fine Arts Thai.
Today, the Wat Chaiwatthanaram seems most impressive temple in Ayutthaya and one of the most significant in Thailand.
Between the river and the trees surrounding it, this temple is in a beautiful setting of nature and strategically oriented to enjoy the sunset.