WAT PHO AT BANGKOK - TEMPLE OF THE RECLINING BUDDHA

Wat Pho (Temple of the Reclining Buddha) is one of the things that you must visit if you are in Bangkok for the first time. Even if you plan to visit Bangkok in a short time we recommend that key location for the capital of Siam.
To save time his visit can easily be combined with that of the Royal Palace given its proximity.
Wat Pho (often written and pronounced Wat Po) his full name Wat Phra Chetuphon (Temple of the Reclining Buddha) is one of the oldest monasteries in the city of Bangkok. Wat Pho was considered as the royal monastery in the reign of King Rama I. These ashes are also kept in the main chapel of Wat Pho.
Since the beginning of its construction in the 18th century the oldest temple in the city has undergone several restorations in the 19th Rama III and the work on the main chapel late 2011.
Originally built on the site of the temple Wat Phodharam the first restoration of the Wat Po took over 7 years at the end of what its name changed to Wat Phra Chetuphon and it covers 8 hectares.
The largest expansion of Wat Po was undertaken by King Rama III. Many additions pavilions and Buddha statues. The temple also houses many pieces of Thai art collections, the most famous Reclining Buddha is 45 meters long and 15 meters high.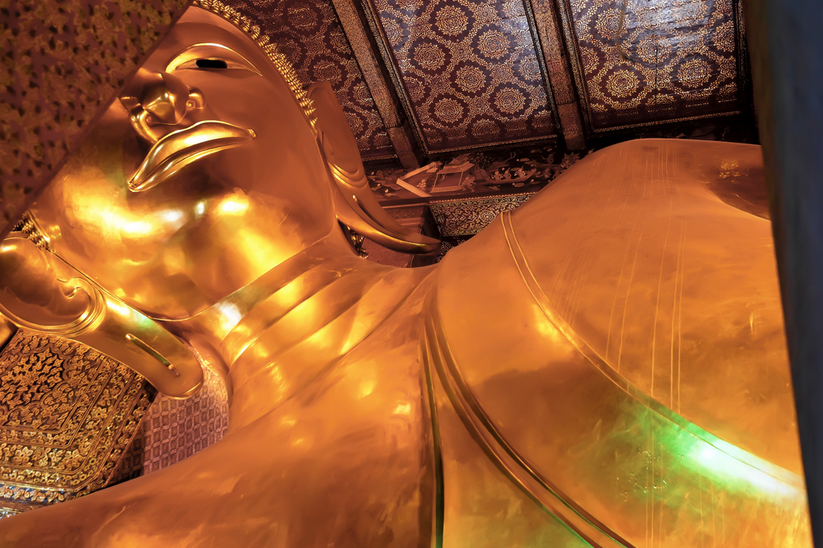 This Buddha statue represents Buddha about to enter Nirvana.
But that's not all ...
Art and Buddhism are mixed with the teaching of Thai traditional medicine. Traditional medicine monastery advocates treatment and cure of diseases through herbal massages. What Po is recognized as the birthplace of Thai medicine and even today the school annually hosts a large number of students from around the world to train in the art of traditional Thai massage. Of course you could take advantage of this unique moment to discover it by letting you carried away by the species of nirvana.
Wat Po temple is a very nice especially in the dark when approaching closing time. Generally little frequented by the end you can enjoy the soothing atmosphere.
Tip: Do not miss Wat Pho in Bangkok
.